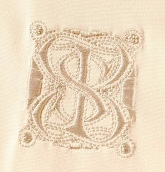 Every year before the new season begins football clubs all over Europe (and I assume elsewhere in the world as well) change their kits. Reason behind is is of course marketing. This leads (hopefully) to more sales as loyal fans dutifully upgrade to the new shirt each year.
Real Madrid revealed their new shirt for the coming 2009-2010 season last week. In itself business as usual: on the left side is the club badge, but the badge on the right side is an interesting new addition.
The badge represents Real Madrid's famous Bernabeu stadium. It's a stylized top view of the stadium on which the monogram ESB (for Estadio Santiago Bernabeu) is superimposed. The E and B letters end in the four access towers to the stadium, which contain the letters RMCF (for Real Madrid Club de Futbol).
Finally the year 1947 also appears on the badge. This was the year the stadium was finished and first put into use.
According to the Real Madrid website:
The symbol, which represents the Santiago Bernabeu Stadium, is a tribute to Real Madrid and its football sanctuary. It is a stage that has witnessed Real Madrid's glorious accomplishments in sports and it reflects the essence and grandeur of the club.
Realmadrid.com has a special on the new shirt, including the new ESB badge.